Board of Education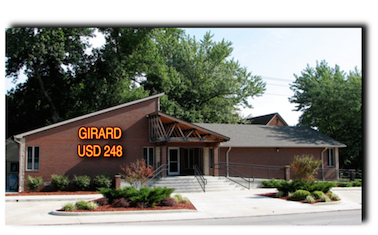 Girard Unified School District Board Office
---
The USD 248 Board of Education is comprised of seven members, people from all walks of life who devote their time to public service as elected officials. Board members serve four-year terms. Current Board members include: Mr. Henry Ashbacher, Mr. Roger Breneman, Mr. Aaron Coester, Mr. David Goble, Mrs. Lori Johnson, Mrs. Peggy Marshall, and Ms. Kelly Peak.
Board of Education meetings are held at 6:30 pm on the second Thursday of each month. These meetings are held at the Girard USD 248 Board Office located at 415 North Summit Avenue, Girard, Kansas 66743. The Board both invites citizens to attend and welcomes dialogue regarding the schools and their educational programs.
If you would like information about a specific meeting and/or location, please contact the Board Clerk at the USD 248 Board Office (620-724-4325). Meeting dates, minutes, agendas, and other information about the district can be accessed from this web site.